Financial Leader | Alexis Adams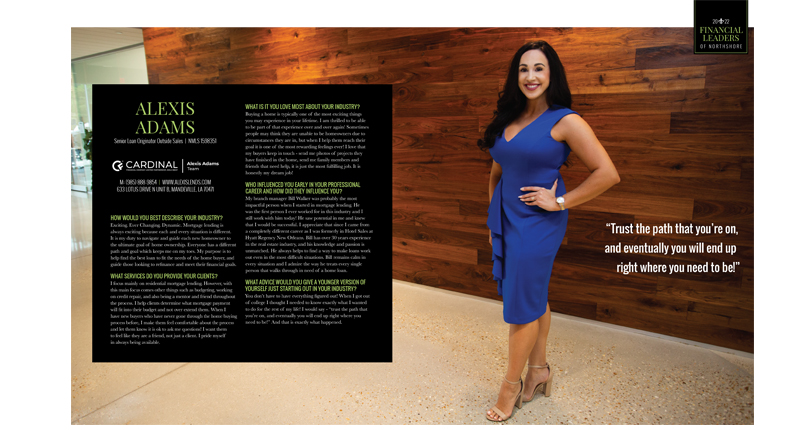 1. How would you best describe your industry?
Exciting. Ever Changing. Dynamic. Mortgage lending is always exciting because each and every situation is different. It is my duty to navigate and guide each new homeowner to the ultimate goal of home ownership. Everyone has a different path and goal which keeps me on my toes. My purpose is to help find the best loan to fit the needs of the home buyer, and guide those looking to refinance and meet their financial goals.

2. What services do you provide your clients?
I focus mainly on residential mortgage lending. However, with this main focus comes other things such as budgeting, working on credit repair, and also being a mentor and friend throughout the process. I help clients determine what mortgage payment will fit into their budget and not over extend them. When I have new buyers who have never gone through the home buying process before, I make them feel comfortable about the process and let them know it is ok to ask me questions! I want them to feel like they are a friend, not just a client. I pride myself in always being available.

3. What is it you love most about your industry?
Buying a home is typically one of the most exciting things you may experience in your lifetime. I am thrilled to be able to be part of that experience over and over again! Sometimes people may think they are unable to be homeowners due to circumstances they are in, but when I help them reach their goal it is one of the most rewarding feelings ever! I love that my buyers keep in touch – send me photos of projects they have finished in the home, send me family members and friends that need help, it is just the most fulfilling job. It is honestly my dream job!


4. Who influenced you early in your professional career and how did they influence you? My branch manager Bill Walker was probably the most impactful person when I started in mortgage lending. He was the first person I ever worked for in this industry and I still work with him today! He saw potential in me and knew that I would be successful. I appreciate that since I came from a completely different career as I was formerly in Hotel Sales at Hyatt Regency New Orleans. Bill has over 30 years experience in the real estate industry, and his knowledge and passion is unmatched. He always helps to find a way to make loans work out even in the most difficult situations. Bill remains calm in every situation and I admire the way he treats every single person that walks through in need of a home loan.

5. What is something, such as a motto that drives you every day?
My motto is "What's meant to be will always find a way". In life and our industry things do not always go as planned. We must have faith that when things do not go our way, that we are destined for something better!

6. What do you enjoy most about helping your customers/clients?
What I enjoy most is becoming lifelong friends with those that I am privileged to help. I get to meet all kinds of people through this career and to see them reach home ownership goals, and keep in touch thereafter is so special to me!

7. What is your greatest accomplishment in your industry that you are most proud of?
Each family that I help get into their new home is the greatest accomplishment! It isn't always easy, but we always find a way!

8. What is it you love most about the NorthShore Community?
Definitely the small town feel and the way everyone always pitches in to help one another. We recently moved into a new neighborhood and the neighbors on one side brought dinner to us, then the other neighbor cut our grass for us twice! It is just amazing how kind everyone is!

9. What advice would you give a younger version of yourself just starting out in your industry?
You don't have to have everything figured out! When I got out of college I thought I needed to know exactly what I wanted to do for the rest of my life! I would say – "trust the path that you're on, and eventually you will end up right where you need to be!" And that is exactly what happened.