Supporting Local Business

We all know that supporting local business is essential to a thriving community but following the spring's COVID-19 closures, it's more important than ever to support the stores, restaurants, services and people that make the Northshore the culturally unique area that it is.
Buy a Gift Card for Yourself
If you want to support a local business that you can't visit right away, consider purchasing a gift card. This helps show the small business owners that you're backing them right now, even if you won't be stopping in right away. Dollars spent now will go a long way to replenishing stock and recouping losses.
Buy a Gift Card for Someone Else
Want to spread the love? Buy a gift card for a friend, colleague or loved one and you very well might make a customer for life. According to the business wire, 90% of consumers who receive a gift card from a business they've never visited say they will shop at that business and will return there in the future.
Get Social
Follow your favorite businesses on social media and let them know you are rallying behind them. If they have an email newsletter, sign up. Share posts from local businesses that you think your friends will want to see. Post your haul on social media, and tag the business or use the appropriate hashtag. You could even snap a selfie while you're getting your curbside order.
Book That Appointment
If you had to cancel an appointment due to coronavirus – reschedule it now! Just knowing that business is coming in is a great gift to any small business owner whose books may feel empty.
Tip Generously
Restaurant and service workers took a real hit when everyone was self-quarantined. Help them recoup by adding a little lagniappe on the tip line. Plus, you will feel good doing it.
Donate Those Cleaning Supplies
Went a little overboard buying up Lysol wipes like a doomsday prepper? Donate them to a business or nonprofit that will put them to good use.
Find Some New Faves
It's great to support businesses you already love, but part of the fun of living in the Northshore is getting to explore hidden treasures. There are some truly wonderful gems out there waiting! To get you started on your journey, take a look at some of the businesses here in this issue.
See Also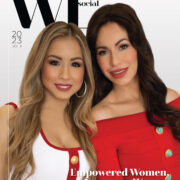 Leave Reviews
If you've never left reviews for businesses that you love, now is the time. Include specific information about what you love about the business and how it's unique. Positive reviews have a lasting impact on influencing potential customers.
Ask How You Can Help
Many business owners, retail workers and service industry professionals are feeling mental and emotional strain, even as things improve. Ask them how you can help. Everyone needs a little kindness right now, and every kind act makes an enormous impact.
Keep It Going
Once everything is back to "business as usual," the community will feel less urgency to support local stores and services. It's important to continue supporting local business to help keep the momentum rolling!