Community Leader: The Hinton Family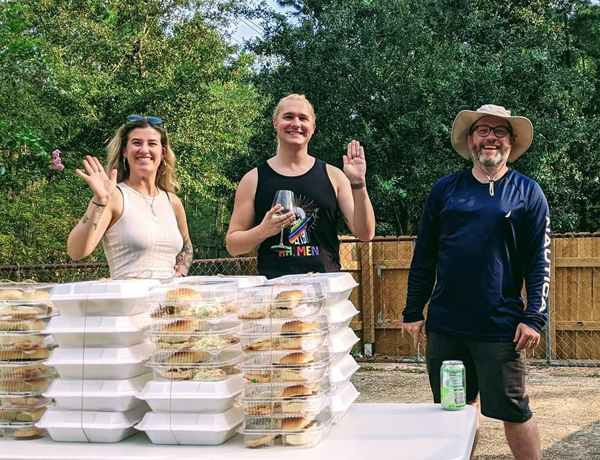 Barbecue and Blessings
Liesel Schmidt
As the coastal states of the South watched Tropical Storm Ida strengthen into a hurricane and then gain both speed and intensity as she neared the U.S., we all wondered just how devastating she would be once she hit land. At a category 4, would she decimate whatever lay in her path? She seemed to have the Northshore and its surrounding areas in her sights, focused on feeding off the cities and towns like so much food placed in front of a hungry toddler. And as rain and wind bared down, people were left without power, water, and food—necessities that we often take for granted until circumstances leave us without them.
For the people of Northshore in need, organizations like the Northshore Food Bank stepped up to provide them with food for themselves and their families. But there were others—other special individuals—who saw a need that they could fill and took it upon themselves to do so.
For Dustin and Hilary Hinton, their backyard smoker was the inspiration—and the means—to feed not just their own family and neighbors as they had first envisioned, but also linemen coming in to work as well as others in their community. "At first, we just made one meal," says Dustin, who works as a Client Systems Architect at Poolcorp. His wife, Hilary, owns Hilary Does Hair. "We thought we would feed our family and neighbors, and then it just kept escalating. We saw all the linemen driving around, and we figured they were pretty hungry. I wanted to make them some real hardcore barbecue; and since I love making barbecue, we just went all in."
Going "all in" meant not just making meat, but making full meals: a choice of two pulled pork or brisket sliders, coleslaw, and M&M cookies. Naturally, such a large-scale operation required supplies, and a friend of the Hintons' delivered meat from MS, while the rest of the necessary supplies came from Sam's Club when its doors opened. To get the word out, theyfound a group called "Feed Linemen" and posted there as well as on the local Facebook marketplace.
What came next was nothing short of overwhelming. "It blew up," says Dustin. "We were actually quite shocked. We just expected a few people to show up, but then everyone showed up. It was insane. We ran out of food each day in under an hour."
Fortunately, the Hintons' efforts were given support by otherpeople in the area who saw what they were doing and wanted to help in any way that they could. "We received an incredible response from the community of people wanting to help," says Dustin. "Not only did our family come out to help, but so did our neighbors and our friends. We even had random people from Facebook delivering food to a local nursing home for us. It was amazing to see the community come together, and being part of something like that is unforgettable."
That kind of bond, those selfless acts that prove the goodness in people and bring us together in times of crisis, are incredibly important to the human spirit. "These days, we are more splintered than ever—as a nation and as a people—and it's nice to know that when the chips are down and it really counts, we rise to the occasion. It shows that we are all just a bunch of humans trying to get a meal and help out," Dustin notes.
Incredibly, the manufacturer of the Hintons' smoker, Masterbuilt, caught wind of what was happening along the Northshore and the barbecue that was being made on their smoker to feed the lines of people that showed up every day. Rather than just sending a Tweet or posting a Facebook message, they actually did something meaningful. "Masterbuilt is great with social media, and they started messaging me about what was going on," says Dustin. "One thing led to another, and they donated $5,000. I was blown away. Honestly, I still can't believe it. I'm so thankful that they stepped up like that. Really, though, they were very concerned about the area and didn't know how to help but knew that we were focused on giving the money to Northshore Food Bank."
As people come together in crisis, it's incredible to see how far they will step out of their comfort zone, how far they will go to help people they have never met. And as the community puts itself together, it's comforting to know that kindness is not a word we have lost.