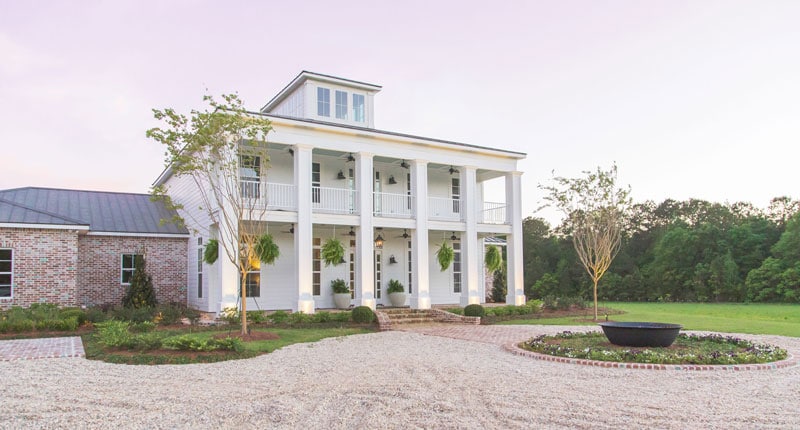 NOLA REAL ESTATE MARKETING
There's a feeling of heritage at the Pettiette home, an air of old establishment that gives the distinct impression that the two-story house has been sitting on that exact plot of land for generations. Surrounded by lush green landscaping and encircled by a thicket that grants them both privacy and seclusion from the busyness of the outside world, the property is a unique one—especially when one factors in the ways that the Pettiette family has used it to create their very own farm. Fruit and berry trees, organic gardens, laying hens, and various other animals including a milk cow named Natalie, all call the land their home. These things make the sprawling estate a self-sufficient enclave that has taught the entire family about the importance of respect for animals and how to harvest food from its most basic sources. 
Farm life may be at the very soul of the design of the home—which, despite its heritage home look, is actually quite new and was only completed in 2017—but there's also a clear love of contemporary design, with open floor plans and fixtures that are elegant yet functional. Outside, the home has large white columns that span the full height of its two stories, with front porches on both levels whose ceilings are painted in the Carolina tradition of using haint blue. While the main portion of the house is sided in white Hardie plank, the wings are clad in brick, giving it the look of a structure that has been added on to over the course of years. Its crowning glory is a standing-seam bronze metal roof, with a large cupola whose windows pour natural light into the house. All of it combines to create an aesthetic that puts one in mind of plantation home, only modernized and fitted with features that give a nod to the farmhouse style. "I've always admired the timeless architecture of 19th century Southern homes that will stop people in their tracks, even after 100 years," says Ashley Pettiette, who shares the home with her husband, Benjie—an industrial contractor—and their three young children.  
CONTINUE READING IN THE ISSUE BELOW: