Whitney Ward and Brennan Kent might have known each other since grammar school and played countless games of basketball against each other at their mutual friend's house, but it wasn't until adulthood—and, of course, the undeniably powerful force of two mothers conspiring to get their children together—that the two actually began dating.  
Over the next seven and a half years, Brennan and Whitney grew closer and realized just how much they loved one another. Then one November night in 2019, Brennan asked the question that had been years in the making. "He told me we were going to dinner to celebrate his brother's birthday but had to stop somewhere to pick up a check," says Whitney, who teaches special ed students in 1st and 2nd grade at Carencro Heights Elementary, while Brennan works as an assistant project manager at Kent Construction. "To my surprise, we ended up at the house of a family friend. The property is really big; and when we drove up, I saw a bunch of lanterns lining up a pathway and a table with the ring on it at the end. I jokingly told him I wasn't ready, and he said, 'Too bad!' He proposed, and then our families popped out of the bushes, along with my dog, who was wearing a bandana that said his parents were getting married!"  
Seven months later on June 19, 2020, Whitney walked down the aisle at Our Lady of the Lake in Mandeville, wearing a simple yet elegant strapless gown with a layered train, cinched at the waist with a beaded belt. As 300 of their friends and relatives looked on, the couple exchanged vows and were pronounced man and wife, happy that their dream of a big wedding actually came true. "A ton of things kept getting cancelled and rescheduled," says Whitney. "Even so, we had the most perfect window of opportunity open up, because they opened capacity up to 75 percent the day before our wedding. Then the weekend right after our wedding, they went back down again to 25 percent. We were so blessed!"  
See Also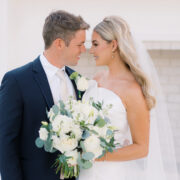 Blessed and excited to finally be wed, the newly married Kents joined their guests at The Lake House for their reception, where they dined on a buffet of delicious food that included pasta, crab cakes, penne chicken, and chargrilled oysters. As the night of dining and dancing wound down, Whitney and Brennan cut into a three-tier cake of different layers: almond and butter cream, red velvet, and bananas foster. After being sent off by their guests to start their honeymoon, the couple spent a few days at Brennan's family's lake house in Dadeville. Five months later, when travel restrictions allowed, they went to St. Lucia. 
Continue Reading in this Issue of Social: