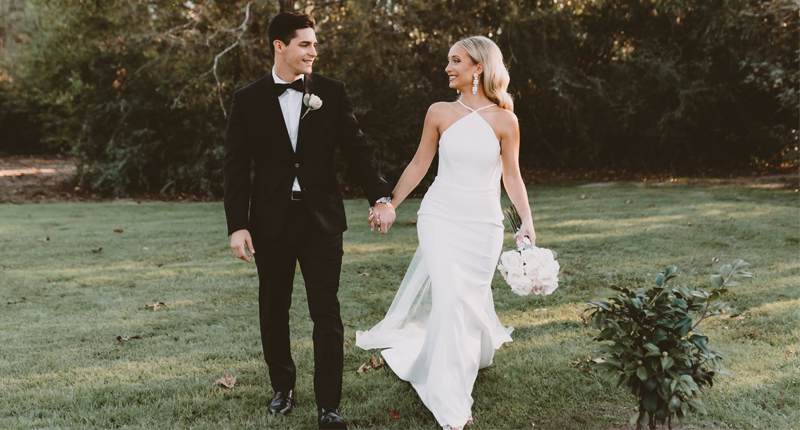 Love through the Years
-Liesel Schmidt
While the term "childhood sweethearts" may not be fully accurate as a descriptor for Courtney Butters and Sam Ybos, the two have known one another since the first grade, when they both attended Our Lady of Lourdes in Slidell. Schoolmates until Hurricane Katrina separated them in their third-grade year, they reconnected when they got a little older and stayed in touch sporadically until college in 2016, when they began dating.
Over the next four years, Courtney and Sam strengthened the bond that was obviously always there. Then, on February 20, 2020, Sam made that bond a permanent one. "I was in dental hygiene school, and he was working offshore at the time," recalls Courtney, who works as a Registered Dental Hygienist, while Sam works down the Mississippi River as a maritime captain. "I was coming home from school to my grandparents, where I lived at the time (they live on Lake Ramsey in Covington), and found a candle-lit pathway leading me to Sam. He was standing on the dock with roses."
Naturally, Courtney said yes to the proposal that followed. On November 6, 2021, she said yes again, standing with Sam at the altar in St. Peter Catholic Church in Covington. Wearing a simple, classic high-neck halter-top gown, the couple exchanged vows and were pronounced married as their family, friends, and 12 attendants gathered with them in celebration.
See Also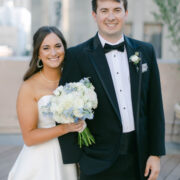 Following the ceremony, the newlyweds joined their guests for a reception at The Greystone in Mandeville, where they dined on a Louisiana-inspired buffet style dinner and passed hors d'oeuvres. As memorable as the food was, there were a few unforgettable moments in the reception. "My dad always likes to put on a show," says Courtney. "He picked me up and twirled me around during our dance, which was not planned. He then got on stage and started singing. Sam's uncle Raymond also hopped up on stage with our band (Category 6) and started playing the guitar. He's actually in a band himself, so he knew what he was doing."
Continue Reading Below In This Issue:
Vendor List:
Church – St. Peter Catholic Church
Venue – The Greystone
Dress – Unbridaled
Engagement and Wedding Bands – Aucion Hart
Photographer – NaeYao Photography
Videographer – Mackenzie Andrews
Florist – Kori Stein
Cake – Tonya Mohler
Makeup – Laura Catherine Fortner & Melanie Taylor
Hair – Shazie Hossainpour with Jade Salon in Hammond
Band – Category 6
Stage – The Tent Man (not sure if you needed this one)
Transportation – Red Line Limousine LLC
Ybos Fan Club T-Shirts – The Logo Store