Belle Maison | The Bowers Family

This Gracious Home
-Liesel Schmidt
The word "sprawling" is somewhat of an understatement when it comes to the home that Matt and Michelle Bowers share in Mandeville, a masterpiece of transitional architecture boasting 8500 square feet of living spaces and 3500 square footage of garage and porch space. Comprising twenty-one rooms in total, there is no shortage of room for the Bowers and their two teenaged boys, including five bedrooms and five and a half baths in the home's two levels—plus a carriage house.
Surrounded by an immaculately manicured and beautifully landscaped property, the home claims the perfect setting, offering a storybook feel of enchantment and charm. With its white painted brick exterior, multitudinous windows, and tin roof with exposed oak beam bracketing, the expansive home paints a magnificent picture of design. The interior is, naturally, every bit as impressive, with high, vaulted ceilings offset with dark-stained oak detailing that brings a cohesion to the home, echoing the oak flooring that runs throughout.
See Also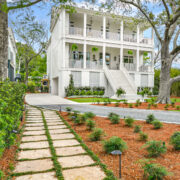 As minimalistic as it is in décor, it is this architectural detail that gives this home its remarkableness. A beautifully orchestrated collaboration of well-known Floridian architect, Geoff Chick of Geoff Chick & Associates, builder, Harrison Construction and interior designer, Erin Schaumburg, there's an incredible openness to the home, a blend of wood and metal and stone that is chic and modern without being cold. Quite the contrary, as the natural elements bring a warmth to the spaces that is intensified by so much natural light and the many unique light fixtures thoughtfully placed throughout its many rooms.
"Our home is very quiet and has a peaceful and relaxing vibe," observes Michelle, a real estate agent with Rutter Realty. Matt, meanwhile, owns several car dealerships in addition to being a real estate developer. "We chose the location because it's close to schools and convenient to all of Matt's dealerships."
Continue Reading Below in This Issue: