Belle Maison | The Thompson Family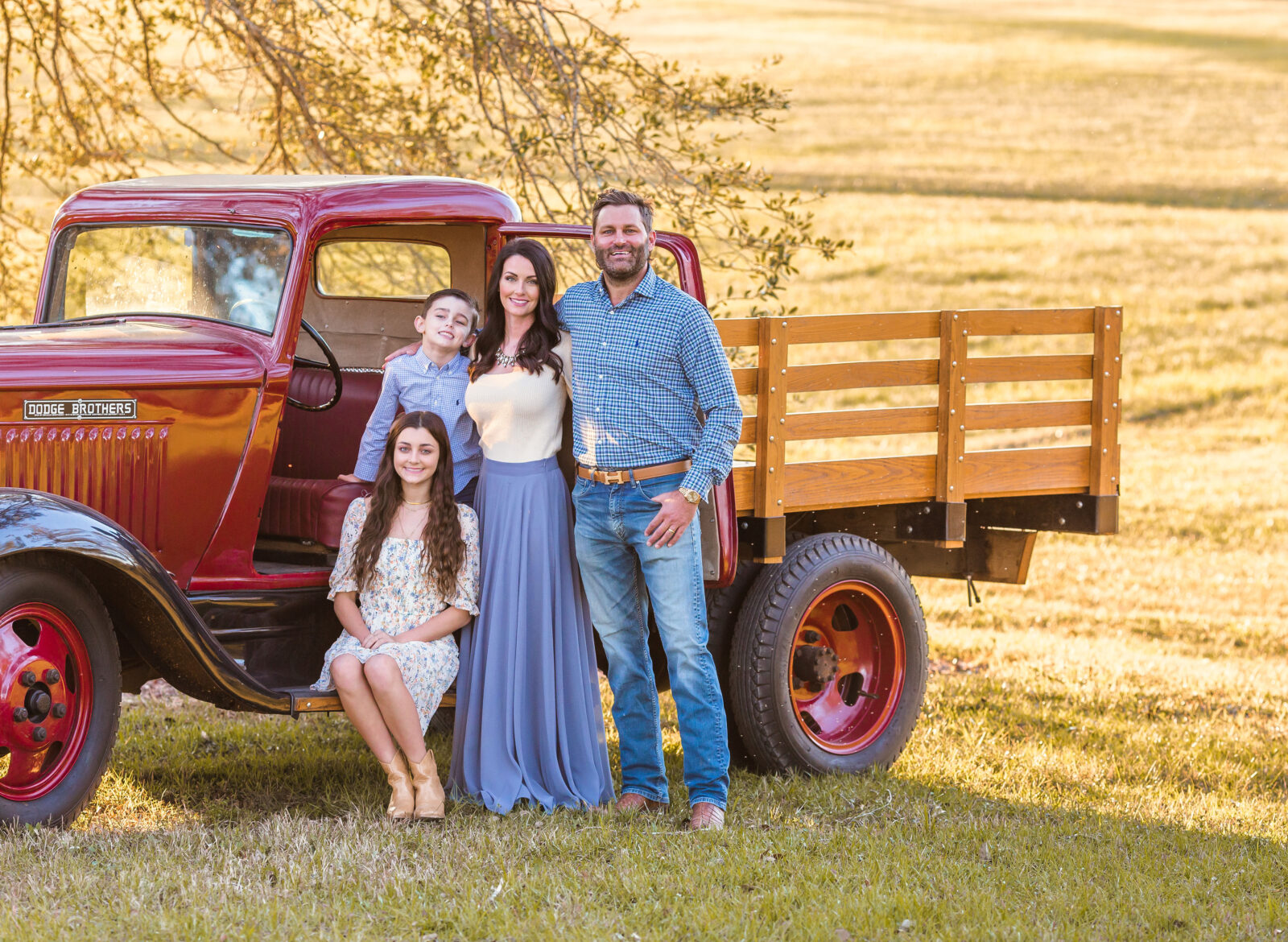 This New Old House
-Liesel Schmidt
Approaching the home shared by Louis and Janna Thompson, one can almost feel transported to another time and place, when the pace of life wasn't quite so frenetic, and things were far more simple. Tucked away behind a gated stone wall, down a long, meandering path shaded by heritage oak trees and flanked by azaleas and horse pastures, you'll find yourself staring at something that seems, at first, almost plucked from the pages of history. Built in the style of Southern Acadian plantation homes with architectural features of the Parlange plantation and the Pitot house, the exterior boasts an antique, reclaimed slate roof as well as antique bricks and beams used in the briquette entre poteaux (brick between posts) style so common to the French architecture of New Orleans. Echoing the brick across the façade of the home is a hexagonal brick-work terrace at the front, with seating areas and a fountain that add to the sense of grandeur. Giving it even more unique appeal, the slate roof crowning the home was largely created using reclaimed materials from an old slave trade building on Corondelet Street in New Orleans, built by Francis Dupuy in 1858. The remaining slate on the roof was reclaimed from one of the earliest houses built on the Mandeville lakefront as well as from the Holy Name of Mary Church on Algiers Point. "People usually say that they feel like they've taken a step back in time when they come to our home," says Louis, who shares the home with his wife and their two children—all of whom enjoy the company of two dogs, two potbelly pigs, and three horses.
Completed in 2020, the home's newness is belied by the style of its architecture, which is complimented by a mix of French country, colonial, and Plantation styles in its interior aesthetic. "The color palette is a historical one, used in homes in the 1800s, so we were really trying to be respective of those details when we chose specific features of our house," Louis notes. "Our passion for history and antiques greatly influenced the design of the home, both inside and out, and we love living in the environment we've created here, as well as the amazing views it offers."
See Also

Those amazing views to which he refers to include the family's fruit orchard, vegetable garden, pond, fountain, front gardens and their horses grazing in their pastures—all of which can be seen from the raised elevation of their front porch. It really is like another world, this patch of earth they've claimed as their own—calm and peaceful and filled with a charm that seems almost lost to modernization.
Continue Ready in This Issue Below: