La Belle Maison | The Heath Family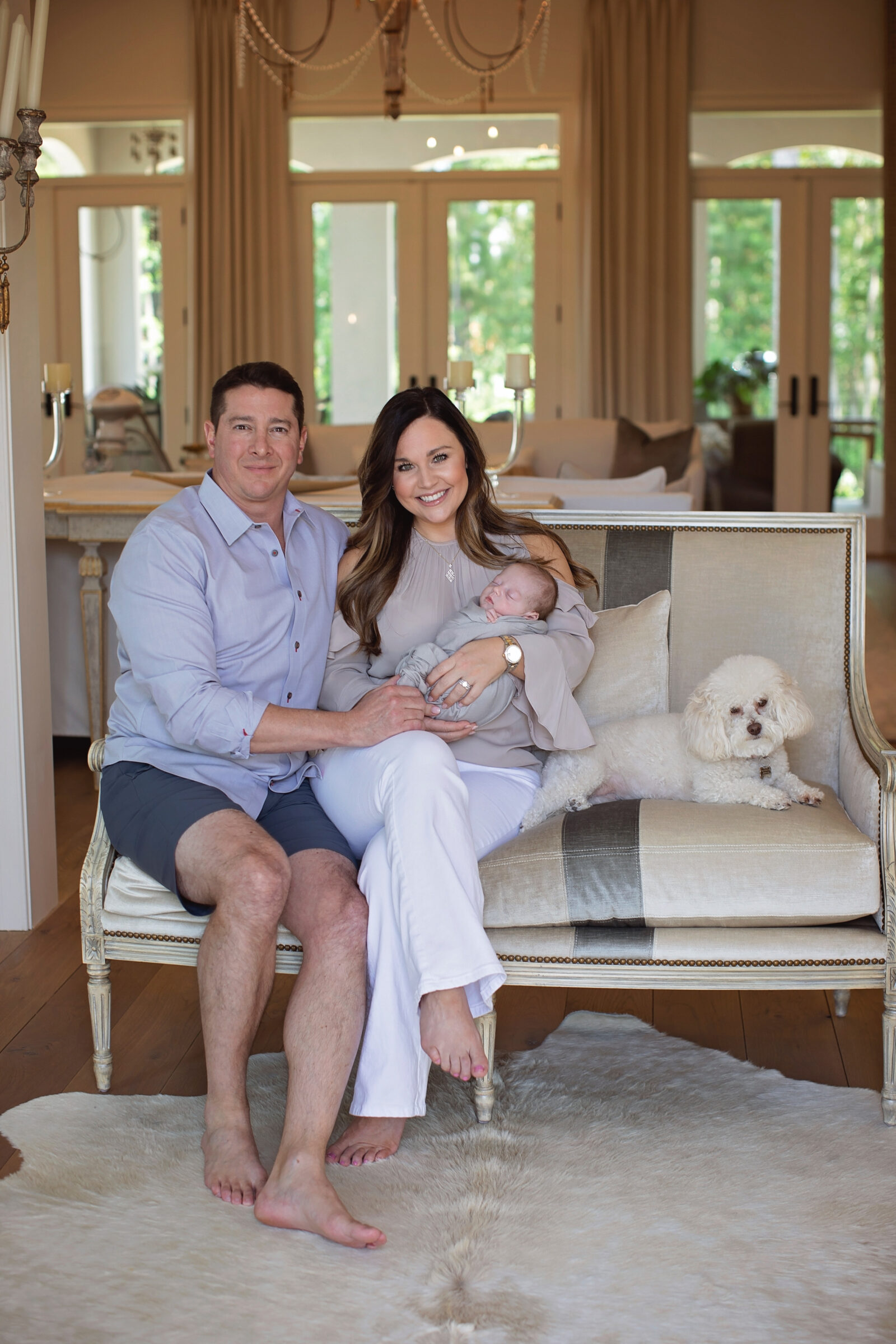 The Sanctuary Space
By Liesel Schmidt 
The French modern feel of the home at 119 Tranquility Drive in Mandeville is one that gives it a certain stateliness balanced with a hominess that makes it approachable and livable—even though it's nothing short of a glossy architectural magazine spread waiting to happen. 
 Boasting 6,150 square feet, the two-story home comprises four bedrooms, four and a half baths, an office, a formal dining room, and a media/golf simulator room as well as the open-plan kitchen and living room. With white oak floors that flow from room to room, the home has a light, bright interior that is both simple and sophisticated—with the odd touch of glamour that speaks to the design sensibilities of its owners. "I just love creating and living in a space so comfy and cozy for my family and friends to enjoy," says Brandi Heath, owner of L&H Homes and a licensed custom home builder and interior designer. She shares the home with her husband, Shane, who works in insurance and risk management, as well as their baby son, Cayman, and their dog Sugar. 
With massive windows throughout, the home is flooded with light, the white walls and thick molding set off by beautiful pieces of art and elegant light fixtures. Color is really secondary to texture, as most of the furnishings throughout the home are shades of white, with accents of gold. "We wanted it to be all neutrals, with lots of whites and textures," says Heath. "The art I've chosen is from local boutiques and made by local artists, so I love that we're supporting the local art scene. The rest of my decorative materials come from all over, and that's one thing that people immediately notice when they come into our home—that, and the lights." The lights to which Heath refers are indeed notable—chandeliers that are like the finishing touch to a beautiful painting. In the half-bath, a three-tier fixture adds a little bit of sparkle to the room, while the formal dining room features a unique piece with gold and crystals. "Light fixtures are such a great way to finish a room because they are like the jewelry to an outfit," says Heath. "Your outfits are not complete without your jewelry, right?" 
The open floorplan is a particular feature that the Heaths love, with their main living area flowing directly into a large kitchen flanked with double-height custom cabinetry and a massive, 11-foot island in the center. Perfect for parties and a couple who loves to entertain, the kitchen is spacious and well-appointed, boasting appliances from GE MONOGRAM as well as Carrera marble countertops and backsplash tiles. Above the island are two oversized pendant lamps that add a hint of industrial glam to the room. "The kitchen and living room are some of our favorite spaces in the home, and we love having people over to enjoy those areas with us," says Heath.
See Also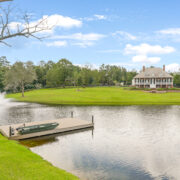 With a little one in residence, the home has a nursery where he can sleep and play safely and comfortably, and Heath had a great deal of fun decorating it. "Out of all the rooms in our home, my favorite room to work on was probably the nursery," she says. "It was so much fun decorating for our little miracle and getting to choose all the pieces for the room."  Naturally, the master suite is a haven of comfort and style. Featuring Carrera marble on everything from the tiles on the floors to the shower walls and the countertops, the master bathroom is elegant and spa-like, with a free-standing tub with floor mounted faucet. As one would expect, the master bedroom is both spacious and intimate, the perfect retreat for the busy owners of the home. 
Outside, the meticulously manicured lawn is lush and green, providing the perfect canvas for the white stucco and brick home whose lines are clean and minimalist. "We have a great wooded backyard for privacy, and we chose this location because we love the Sanctuary," says Heath. "We have already had a few other homes in this community, and we love this little cul-de-sac, as well. It's amazing to us that we get to raise Cayman in this house that I designed for the comfort and style of our family, and we're looking forward to all the memories that we get to create here as a family."
 For the Heaths, this snapshot of French modern architecture is the perfect place for their little family to live, their own slice of heaven tucked away from the busyness of the city nearby. And while their style is hardly off-the-shelf, they keep their home accessible rather than precious, truly living in their home and loving every minute of the memories they make there.