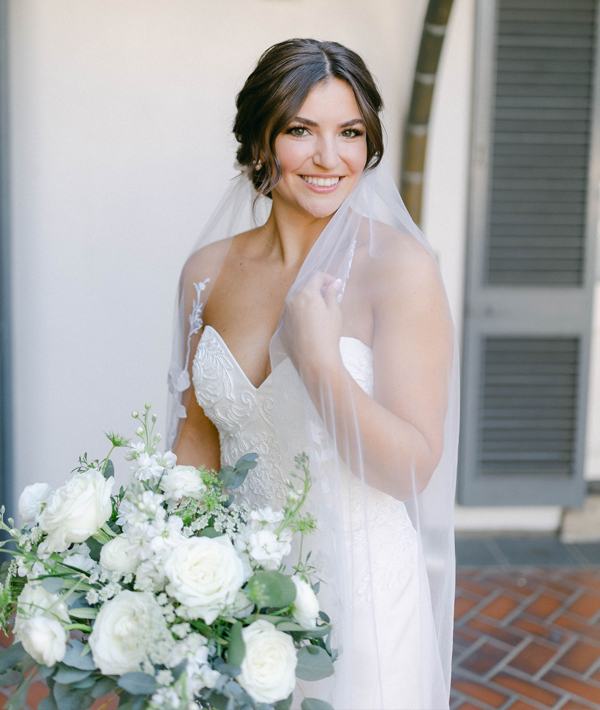 Love Worth Waiting For
-Liesel Schmidt
As seventh graders, McKenna Veca and Daniel Crain could never have foreseen that they'd ever get together—much less that they'd end up falling in love. But after starting out as friends and then beginning to date four years later as high school juniors, the two spent the next eight years strengthening their relationship and falling even more in love.
After eight years, it was clear to Daniel that it was time to make theirs a love that would last forever. Taking the romance of their surroundings as a cue, Daniel did just that during a trip to Florence, Italy, in September of 2019. "In the middle of the day while we were exploring museums and walking around the city, we stopped in a piazza to take some photos," recalls McKenna, who works as a content specialist, while Daniel works as an engineer. "All of the sudden, he got down on one knee and proposed! It was so special and a perfect surprise."
As perfect as the proposal was, the wedding planning was anything but. In fact, Daniel and McKenna had to reschedule their wedding twice before they were actually able to marry because of COVID-19 shut-downs and Hurricane Ida. Finally, on November 6, 2021, McKenna dressed in a fit-to-flare Amsale silk and lace dress with a train and cathedral length veil to walk down the aisle at Christ Church Cathedral in New Orleans.
See Also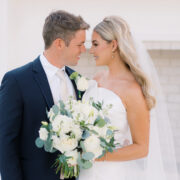 With their 12 attendants gathered around and their friends and family looking on, the couple exchanged vows and were pronounced man and wife. Naturally, there were some memorable moments that will forever be part of their story. "One of our guest busses got in a very minor fender bender on the way to the church and delayed the ceremony," says McKenna. "Everyone was totally fine, and we laughed about it because we had already had to postpone the wedding twice because of COVID and Hurricane Ida, so it was felt like just our luck. But we were so happy to be finally getting married that the little delay didn't matter. Also, during our ceremony, I was so excited that I accidentally jumped the first kiss before the priest said it was time. We had to redo it at the right part of the ceremony!"
Continue Reading Below In This Issue: