La Belle Maison | March 2022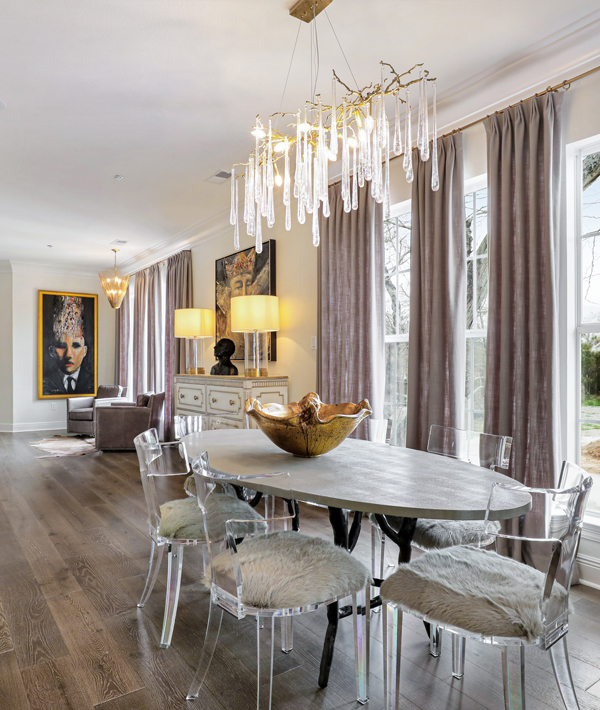 Shades of Gray
-Liesel Schmidt
Nestled along the waterfront of Lake Ponchartrain, the home that Frank Stuart and Vince Liuzza III own in Mandeville is a reflection of their love for monochromatic décor. There's minimal use of color splashed throughout like unexpected strokes of highly pigment paint in a master work. Every inch of the condo is like a signature on a canvas, or a fingerprint, as the couple lean toward this use of neutrals as a rule, almost ignoring the entire color wheel except when it comes to their art, which injects unexpected bursts here and there through pieces that are both mesmerizing and unforgettable.
Built in 2000, the home belies its decades through the couple's thoughtful renovations, giving incredible attention to detail by the two men whose day-to-day routines involve paying attention to details. "This was a complete renovation, and all furnishings were purchased specifically for this home, sourced by Lesle Veca of V Home & Interiors," says Liuzza, who co-owns Southern Window Accents with Stuart, in addition to his role as owner and broker of Liuzza Realty Group. "Lesle and David have been friends of ours for 20 years, and we trust her to understand our style. She dedicated countless hours to working with Frank to find the perfect furnishings for every space; and when shipping delays were a challenge, she sourced local craftsmen to custom-make what was needed."
Constructed with a nod to the architecture of the West Indies blended with Southern charm, the waterfront condo opens its arms to welcome its owners to light-filled spaces that, while nearly devoid of color save for varying shades of charcoal and gray, are densely populated with textures and accents that sparkle or shine. The result is what Stuart coins as "lakefront chic," though there is not a stick of coastal kitsch to be found in the mix. Instead, the rooms have been lavishly decorated with pieces of quality which are often the topic of conversation for anyone visiting the home.
See Also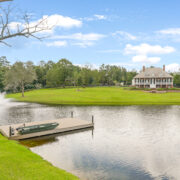 Boasting 2,350 square feet with 400 square feet of balconies, the three-bedroom home seemingly gives context to the way the couple thinks. "The aesthetic is an overall transitional theme that combines traditional lighting, furniture, and window treatments with more modern elements such as the doorknobs, bathroom tiles, dark bathroom cabinets, and bold furniture colors," says Veca. "Bold" is a relative term here, as their furniture does not stray from the gray and charcoal line they have drawn.
Built on the foundation of good bones from the original architecture and footprint of the home, the finishes are what truly make the spaces. The couple removed all interior doors and lighting, gutted the kitchen and baths, and tore out the flooring. Guided through the renovation process by Mitch Guillot of MG Interior Designs, Stuart chose new finishes including flooring, bathroom tile, cabinets, appliances, counters, and EMTEK crystal doorknobs. They then entrusted Lesle Veca with the task of hand-selecting their furniture, mirrors, lighting, and even their cabinet pulls to perfectly fit every space. As exacting as their standards are, there were, of course, some pieces that Stuart and Liuzza brought in themselves: the master bed frame and an office desk custom made by Nick Dischler, balcony tables custom made by Keith Dufour of Louisiana Cypress Lumber Co., and original art by David Harouni of New Orleans. Naturally, Southern Window Accents supplied the custom window treatments: linen drapes in living room, motorized velvet drapes in the master bedroom, motorized Perfect Sheer shades in the master bath, office, and guest room. "The motorization technology just puts the window treatments over the top," Liuzza notes.
Continue Reading Below In This Issue